Rural recharge roots start to grow deep
Share - WeChat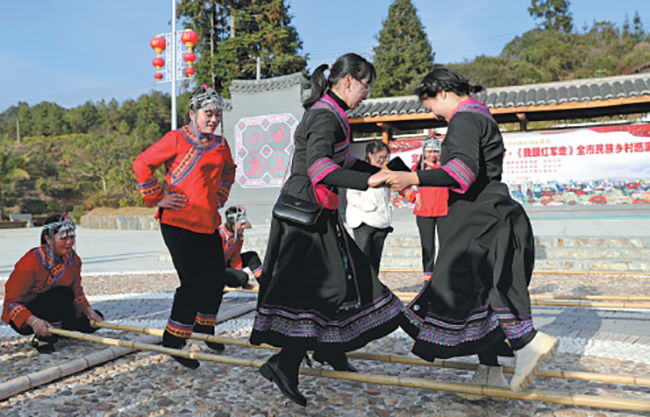 Vitalization strategy aims to bolster development and provide jobs
Xiong Guixiu, a 46-year-old businesswoman, decided to steer fellow villagers and peers toward a better life while she was growing up in an outlying area in Huichang, a once poverty-stricken county in Jiangxi province.
"I left my village and worked in Nanchang, the provincial capital, when I was about 16. I experienced both hardship and success in the city, and later in Henan province, where I also have a branch of my company," she said.
Xiong said that in Nanchang, her company focuses on agricultural consultancy and ecological construction projects.
"I was brought up in Dongtou township, and when I was striving for a better life in Nanchang, I always dreamed of home-the beautiful mountains, clean water and the warmhearted villagers," she said.
When she decided to return home, Xiong said she benefited from the county government's policies and strong backing.
"In 2019, I proposed launching an ecological agriculture business, which requires a relatively large area of land. Thankfully, local officials gave me really good support and accompanied me to choose the land.
"I then decided to settle my company in Dongtou, where I grew up. To date, I've invested about 70 million yuan ($11 million) in the company to develop ecological agriculture," she said.
Xiong said she was driven to invest in the village not only through a love for her hometown, but also because she had full confidence in the nation's policy of vitalizing rural areas in the near future.
Initiated by President Xi Jinping in October 2017, the rural vitalization strategy has been highly emphasized.
On Feb 21, the Central Committee of the Communist Party of China and the State Council, the nation's Cabinet, released a guideline to advance implementation of the strategy.
Development of rural areas and their vitalization are a priority for the government's work during the 14th Five-Year Plan (2021-25) period.
In Jiangxi, development of such areas is highlighted in the province's own 14th Five-Year Plan, which was released in February and is based on the local situation.
The Jiangxi plan will continue to improve the industrial structure of agriculture by making it more modern and improving quality. The plan states that by 2025, the production value of four major categories-rice; fruit, vegetables and tea; livestock husbandry; and aquaculture-will each total more than 120 billion yuan.
The plan will support the construction of some 200 agricultural bases by 2025, which will produce organic food and also channel more resources to develop leisure agriculture to increase the industry's added value.
Xiong, the businesswoman, said she is applying to have her produce certified as organic.
"The environment here and the produce grown by local farmers are of good quality, but a well-regulated company is needed to help farmers plan for and apply such certification. This will help greatly in improving their incomes," she said.