Govt further tightens measures in port cities to curb virus
Share - WeChat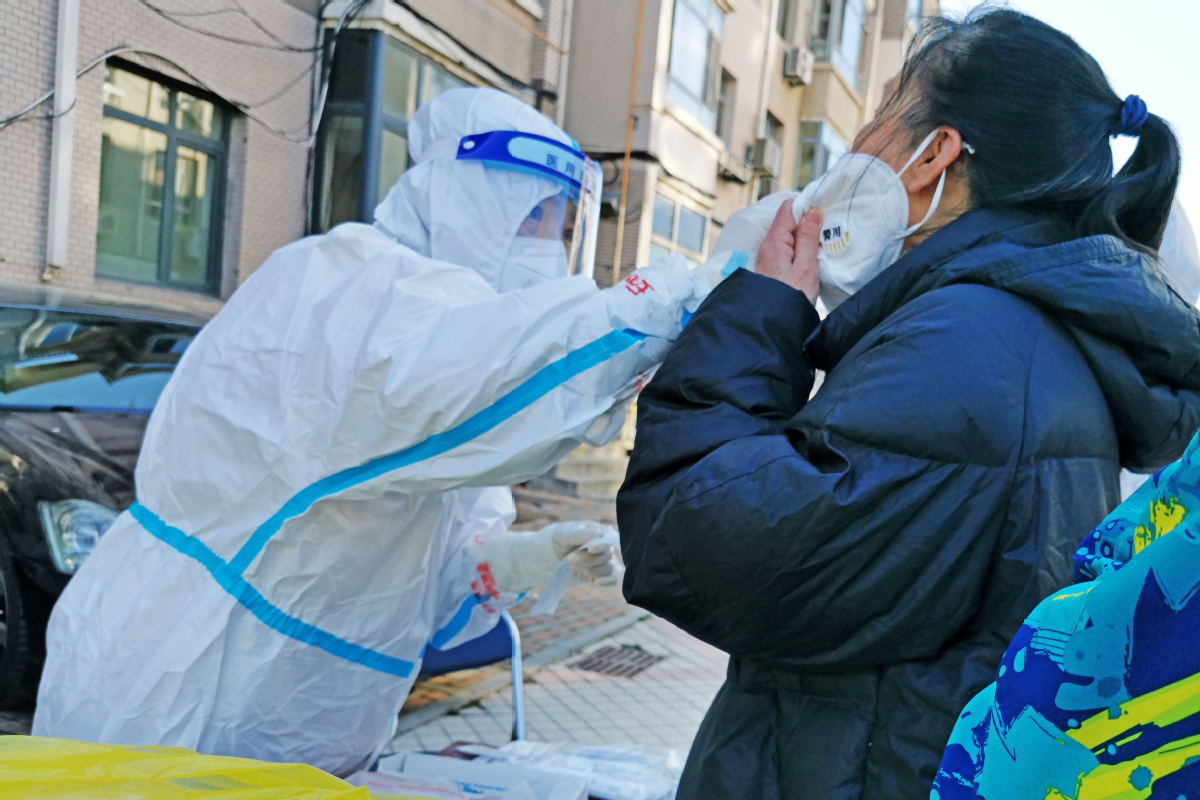 People leaving land port cities in China should provide proof of negative nucleic acid testing results taken within 48 hours before departure, authorities said on Saturday.
The new rule takes effect immediately and will last until March 15, according to the notice published on the website of the National Health Commission. Port cities related to the Hong Kong and Macao special administrative regions are exempt from the rule.
The document also requires people arriving at land port cities to take at least one test upon arrival. It added that the number of tourists visiting these places should be capped and precautionary alerts on the risk of the virus's spread should be conveyed to them.
These new policies have come as port cities and their neighboring areas in China have been hit by a new round of local outbreaks triggered by imported infections, and the emergence of the new Omicron variant brought uncertainties on the outlook of the pandemic.
Regions near land ports, especially those without natural barriers and seeing frequent exchange of trade and personnel, are at even heightened risk of seeing new local outbreaks sparked by imported infections, health officials said.
"The top priority for China's virus control work centers in ports," said Mi Feng, spokesman of the commission, during a briefing on Saturday.
The notice added that high-risk staff members in port cities, such as those working at ports receiving incoming travelers, quarantine facilities, designated hospitals and cold-chain sectors, should take tests every other day, and other relevant workers should take two tests every week.
Their family members should also take one test every week for free, it added.
Border control measures will be further ramped up, including accelerating establishment of physical barriers along the border, cracking down on illegal crossing and prohibiting in-person contact between domestic cargo workers and those coming from overseas.
In order to minimize virus control's disruption to life and work of residents living in border areas or port cities, local authorities are encouraged to set up a buffer zone where stricter virus control work can be taken.
Local authorities are also urged to launch a campaign to inspect potential risks in their local cold-chain businesses and report results to the State Council's Joint Prevention and Control Mechanism by Wednesday.
Local capacities to roll out regular nucleic acid screening campaigns, as well as efforts to ensure basic livelihoods of affected residents should also be strengthened, it added.
Health authorities added that China's dynamically zeroing of new outbreaks should continue to be enforced.
As the New Year's Day and the Spring Festival are approaching, the risk of the virus is growing and more targeted and scientific measures should be taken, said Wu Liangyou, deputy director of the commission's disease prevention and control bureau.
He said that as of Friday, China had fully immunized 1.16 billion people, or 82.5 percent of its total population. Nearly 120.6 million had received a booster shot.