Partnerships expand access to quality treatment, cut cost of medical services
Share - WeChat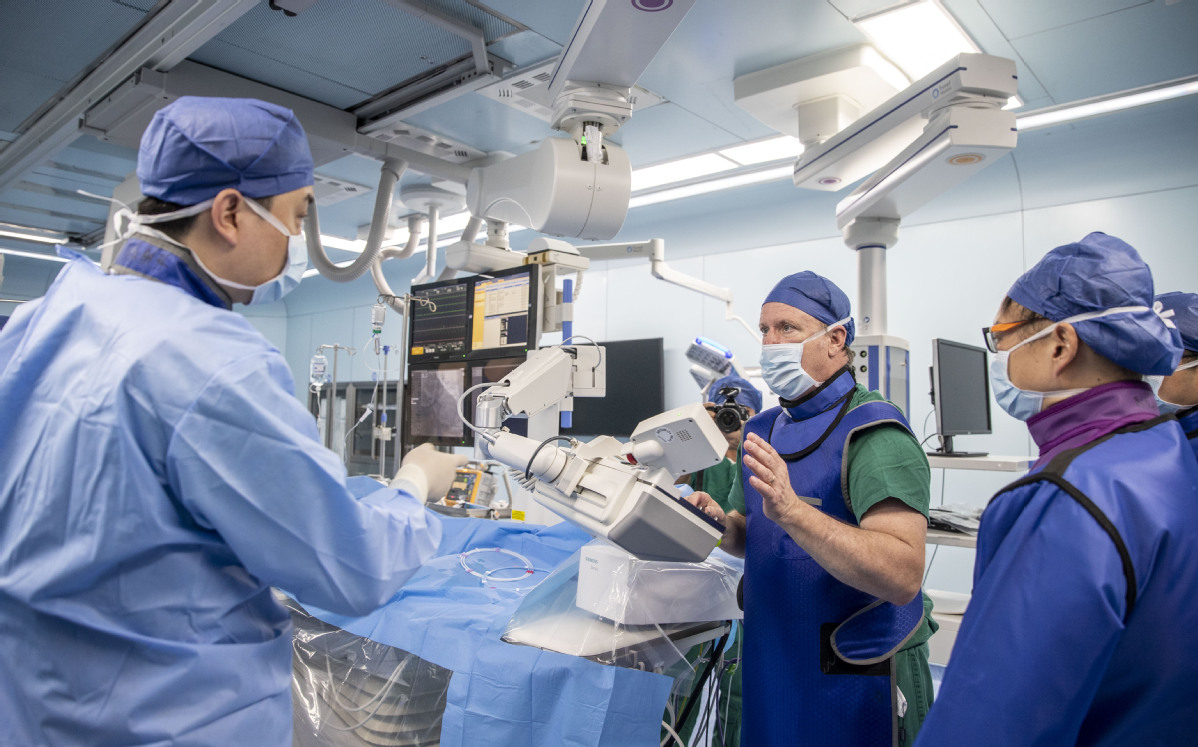 Improving drug accessibility and affordability is considered a very important part of the innovative health ecosystem the country is building. To help make that goal a reality, multinational pharmaceutical companies have said that they are willing to work with local partners.
China has formed what is, in effect, a multilevel medical security system with basic medical insurance as the main support, backed by supplementary medical insurance, commercial health insurance and charitable donations, experts said.
By August, commercial, supplementary medical insurance had become available in 75 cities. The reimbursement lists of such insurance plans included some innovative drugs made by multinational pharmaceutical giants for the treatment of major diseases such as breast cancer and lung cancer.
"That allowed patients to benefit from high-quality medical services while lessening the financial burden," said Chen Hao, an expert at Tongji Medical College of Huazhong University of Science and Technology. Chen spoke at an event held by Pfizer during the fourth China International Import Expo in November.
Policies such as one that created the Hainan Boao Lecheng International Medical Tourism Pilot Zone also have been shown to play a role in accelerating the introduction of innovative drugs in the domestic market.
Ye Gang, an oncology expert at Boao Evergrande International Hospital, said that more than 10 lung cancer patients had received an innovative targeted therapy designed by Pfizer since the therapy's introduction last year.
Novartis and the Lecheng pilot zone administration also signed a strategic cooperation memorandum at CIIE, aiming to leverage real-world data to verify the efficacy and safety of drugs, and thereby help drug regulatory authorities make decisions and accelerate the approval of innovative medicines.
"By combining real-world evidence with evidence from clinical trials completed overseas, we'll create a new pathway for global innovative drugs and devices to be launched in China in an accelerated way," said Lyu Xiaolei, deputy director of the zone's administration.
Multinational pharmaceutical companies have contributed in other ways to the country's health ecosystem construction, such as forming partnerships with startup companies and empowering chronic disease management.
Novartis and Shanghai Zhangjiang Group signed a memorandum of understanding during the CIIE to set up the Novartis China Life Sciences Open Innovation Platform.
The platform will leverage the company's global innovation resources to help incubate and accelerate local innovative projects in biopharmaceutical and life sciences.
GlaxoSmithKline announced it would promote a "happy breathing" initiative, which it had begun with the China Association of Health Promotion and Education in 2017 to standardize diagnosis and treatment of chronic obstructive pulmonary disease, or COPD. The announcement marks a fourth phase of the initiative, covering wider regions and establishing a system augmented by artificial intelligence to assist doctors' decision-making.
"By August, the initiative had covered 29 cities in 24 provincial-level regions, holding nearly 600 doctor training sessions, surveying 1.51 million patients, and including 36,900 COPD patients in the standardized management system," said Huang Zemin, executive vice-president of the association.
Boehringer Ingelheim and Chengdu's Wenjiang district government last month announced a plan to build a German gold-standard stroke rehabilitation center at Chengdu Medical City, a biomedical innovation center. The stroke center is expected to help improve stroke rehabilitation in the province and in western China.
Chengdu is the second Chinese city in which Consanas Rehabilitation, a stroke rehabilitation brand of Boehringer Ingelheim, will operate a center following its first in Shanghai in 2018.