IOC's Pound leads criticism of Washington decision
Share - WeChat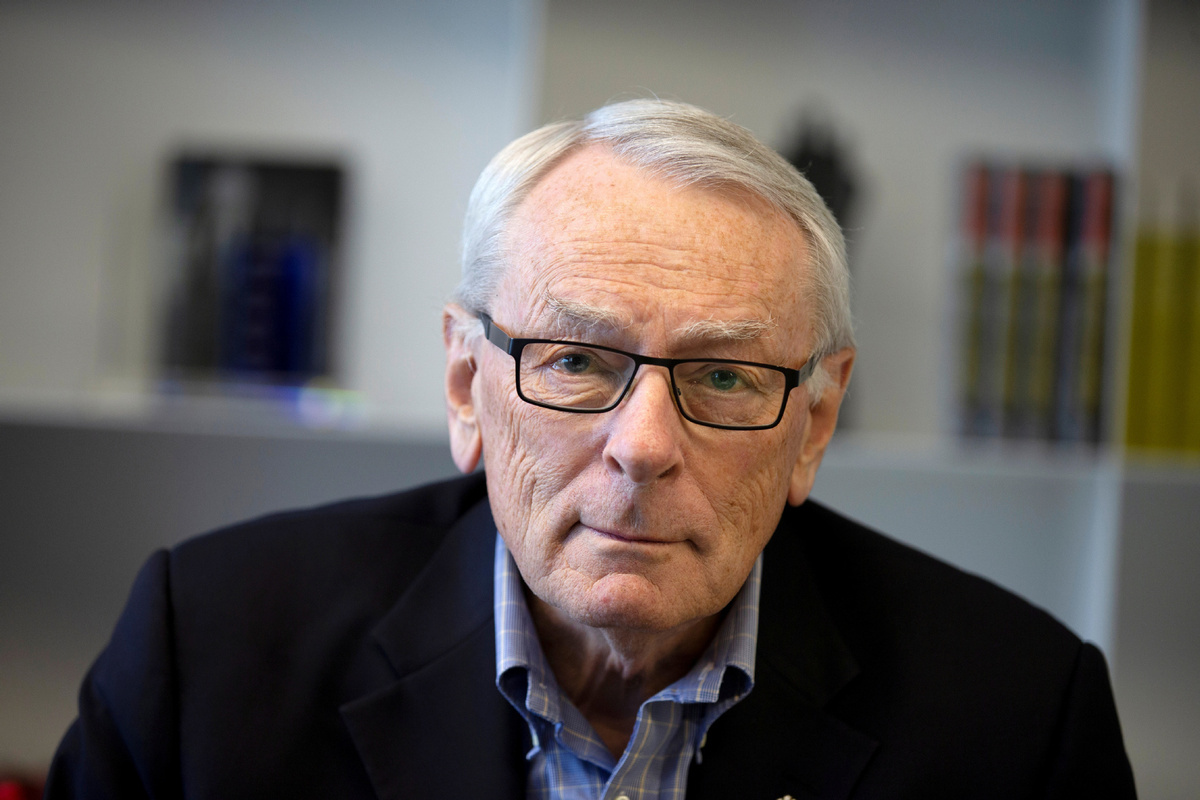 IOC member Dick Pound said Washington's so-called diplomatic boycott of the Beijing Winter Olympics is "unlikely to make much of an impact".
Pound, the former vice-president of the IOC, said he wonders if it can truly be considered a boycott if US officials were not invited in the first place.
"How could you boycott something to which you were not invited?" Pound told American media outlet Politico.
'Politically motivated'
A top-ranking South African official said the so-called diplomatic boycott is motivated by politics.
"It's unfortunate that some countries are speaking of a diplomatic boycott of the Games in China. It has nothing to do with sports, and has everything to do with politics," Anil Sooklal, deputy director-general for Asia and the Middle East at the Department of International Relations and Cooperation of South Africa, told Xinhua.
Sooklal expressed his disappointment over the politicization of sports events, but said it was encouraging that over 15,000 athletes have committed to taking part in the Winter Games. He added he is confident that China will present a spectacular event next year.
'Self-defeating'
Wei Jizhong, the honorary life president of volleyball's global governing body, the FIVB, said the Winter Olympics will help erase misconceptions about China and that the non-attendance of some Western government officials would have no effect on the Games.
Wei said that the US intended to disrupt and undermine the 2022 Games, but added that Washington's actions were self-defeating.
The international sports community has long been dismayed by the politicization of sports as not a single National Olympic Committee (NOC) has voiced support for the US government's decision, said the 85-year-old.
Wei noted that in recent years, some Western politicians and media have maliciously smeared China, misleading many foreign people. Since the outbreak of the COVID-19 pandemic, misunderstandings about China seem to have deepened in some Western countries as international exchanges have been reduced or even suspended.
But, just like the 2008 Summer Olympics, the 2022 Winter Games will allow Westerners to learn about the real China, said Wei. "Seeing is believing," he added. "Foreign athletes will tell their friends and fans what they see in China themselves, and this will help erase some misinterpretations of China."
'Highest-level' Games
Mongolia expects the world is in for a treat when the Winter Olympics opens next February.
"There is no doubt that China will host the Beijing 2022 Winter Olympics and Paralympics to the highest level. Our national team is doing its best to succeed at this Olympics," said Erdenesaikhan Bilegt, head of Mongolia's National Team Policy Implementation Department.
"We all see this Olympics in our neighboring country as a great opportunity," said Bilegt, who also criticized the politicization of sports events.
Two Mongolian cross-country skiers have so far qualified for Beijing 2022.
"Mongolia aims to participate in this Winter Olympics with the widest possible number of participants. Our skaters and biathletes are training abroad and participating in competitions to qualify for the Winter Olympics," he said.
Mongolia has been paying more attention to the development of winter sports by building indoor ice arenas and providing opportunities for athletes to train abroad, according to Bilegt.
"Our children and youths are very interested in snowboarding, hockey, skiing and other sports," he added "So, I am confident that winter sports will continue to develop in Mongolia."
USOPC: Boycotts backfire
A diplomatic boycott of next year's Beijing Winter Olympics will not solve any geopolitical issues with China and will only serve to place athletes training for the Games under a "cloud of uncertainty", the head of the US Olympic and Paralympic Committee stressed.
In a letter sent to Congress, CEO Sarah Hirshland reiterated the USOPC stance that Olympic boycotts harm athletes and often backfire.
Hirshland offered a history lesson about the US-led boycott of the Moscow Games in 1980 in protest at the Soviet Union's occupation of Afghanistan. That prompted the Soviet Union to respond in kind at the Los Angeles Games four years later. More than 450 US athletes who had qualified for Moscow never had a chance to compete in the Olympics.
"To make matters worse, their sacrifice had arguably no diplomatic benefit,"Hirshland said. "The Soviet Union stayed in Afghanistan for another decade.... Both the 1980 and 1984 Games tainted Olympic history."
She said the new generation of Winter Olympians were working hard to represent the US next year in Beijing, adding:"Please give them that chance."
Xinhua/AP