Model assists domestic biotech startups
Share - WeChat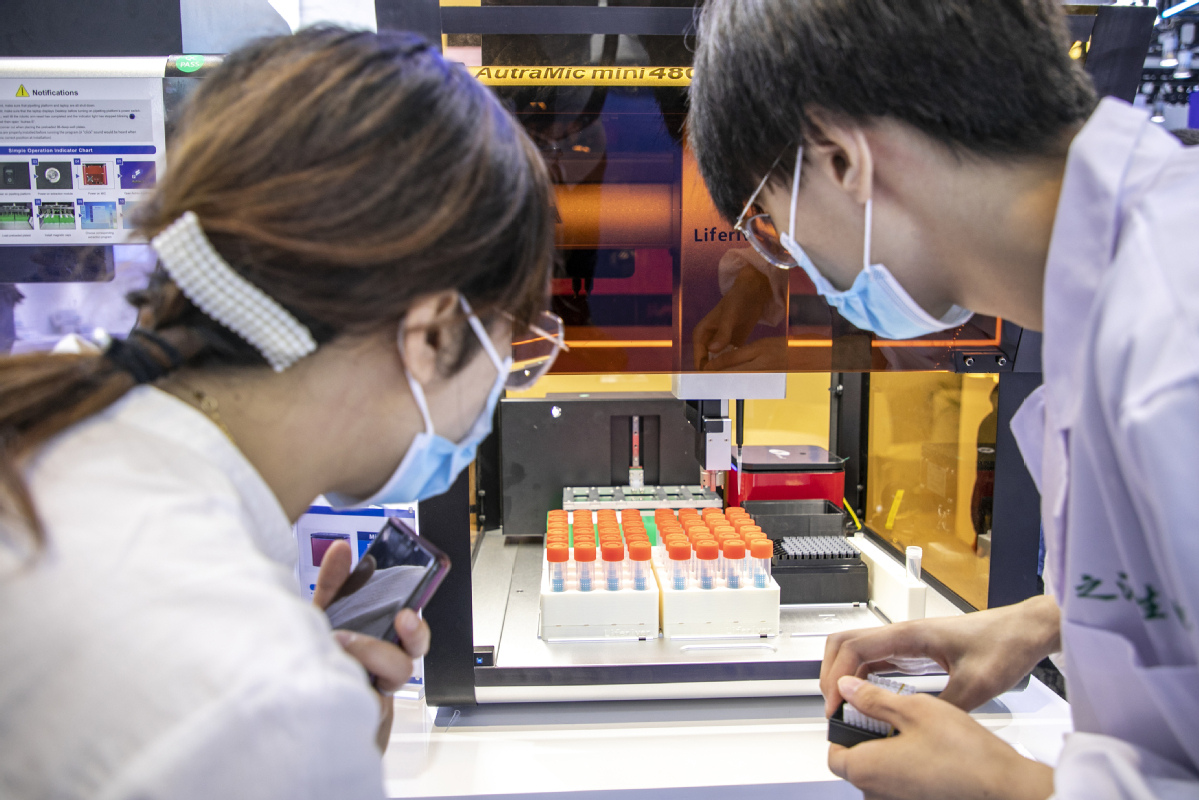 Boehringer Ingelheim announced a partnership with Shanghai ZJ Biotech Co Ltd during the fourth China International Import Expo in early November. Under the agreement, Boehringer Ingelheim Biopharma, a division of the German pharmaceutical company, will provide process optimization and clinical material manufacturing for the latter's bispecific antibody drug for potential treatment of COVID-19.
It served as a latest example of how the model of contract development manufacturing organization, or CDMO, may help domestic biotech startups develop and commercialize products while maximizing their value.
With this alliance, ZJ Bio-tech initiated its strategic transformation targeting all dimensions of the biopharma market as it aims to provide more China-developed tools for the global fight against the COVID-19 pandemic.
The drug SYZJ001 is expected to be among the world's first-class innovative, therapeutic bispecific antibodies against COVID-19 that are anticipated to enter clinical stages. Bispecific antibodies can simultaneously bind two separate and unique antigens, which are protein molecules that can provoke an immune response and that are present on the surface of invading or cancerous cells.
"All preclinical studies of SYZJ001 have been completed, and three patent applications related to the study results have been submitted. The project has entered the communication process with drug authorities in both China and the United States, a preparation for phase 1 clinical trials," said Lyu Lilang, general manager of ZJ Bio-tech.
It not only has excellent neutralization activity for COVID-19 but also targets a broader spectrum of mutant infections, according to ZJ Bio-tech.
It can "extensively neutralize SARS-CoV-2 mutant strains" and its efficacy "has been verified in cell-based experiments and in vivo mouse models", the company said.
Wang Bin, general manager of Boehringer Ingelheim Biopharma China, said the partnership reached with ZJ Bio-tech marked another milestone for its CDMO business in China. Boehringer's CDMO business debuted at the biopharma exhibition zone of the fourth CIIE.
"With our quality level, manufacturing technology and international-standard operational capability, we aim to empower innovative medicines to go global by applying the unique business model of local innovation plus global application," Wang said.
ZJ Bio-tech said its testing-kit products are available in over 100 countries and regions and are widely used in public health emergencies, clinical diagnostics, border control, food safety and other fields. The Shanghai company also is expanding in the biopharma field, focusing on the research and development of innovative drugs.