Walking a hero's path
Share - WeChat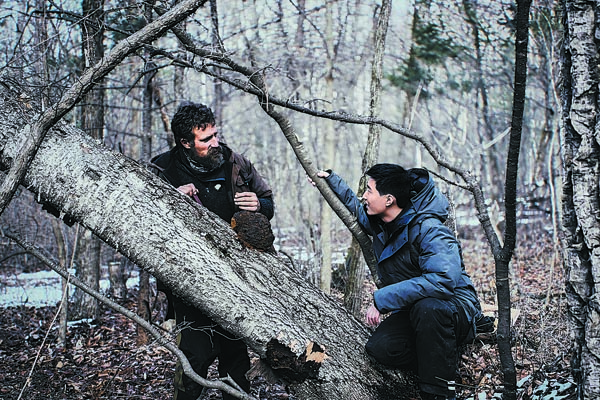 Over the course of several days, Dou and James followed the footprint of General Yang in the Changbai Mountain, which is freezing in winter. During the trip, without food or water, they try to find his secret camps and reach an appointed destination, while evading the pursuit of a veteran, drafted in to try and help replicate the situation that faced Yang and his companions.
For Dou, an outdoor sports enthusiast who once reached the peak of Mount Kilimanjaro, the highest mountain in Africa, this adventure was special because it relates to history.
"We got to know Yang's experience in the wild, including how to get food and build shelters. We ate ginseng, birch barks and insect eggs that we found in the forest, and made a fire to boil snow water in bowls we made from the birch barks for drinking, since eating snow directly is not healthy," says Dou.
"But Yang and his troops didn't have such a luxury, as they couldn't make fires for fear that the light and smoke would alert the enemy to their position. It must have been really tough," he adds.
Yang separated his troops into small groups to engage the enemy in bushfighting, and saw their number fall from 60 to seven and, eventually, to only himself. Finally, in 1940, he died in a fierce skirmish after fighting alone for five days without any food. After his death, Japanese soldiers cut open his stomach, and found only tree bark, cotton batting and grassroots within-not a single grain of rice.
James is impressed by Yang's story. "It was amazing that Yang managed to not only survive, but also coordinate and lead the army. When I am having a bad day, I think of Yang and the trials and tribulations he had to endure, and my bad day doesn't feel so bad anymore. He was a very courageous man and is an inspiration to me."
Hong Kong actor Chung and James retraced the path of the Red Army over the snowcapped Jiajin Mountain in Southwest China's Sichuan province during the Long March (1934-36). They had to endure a lack of oxygen, extreme cold and other difficulties to traverse the mountain.
"I'm an enthusiast of outdoor activities and adventure, and I felt more motivated to participate after learning about the meaning of this trip," says Chung.